Italian Body Scrub Therapies
Luxury Gold Coffee
Re-mineralizing, oxygenating full body scrub using an organic coffee skin scrub. Your skin will feel smooth, look buffed, and feel nourished. This is perfect skin preparation before or after a holiday or before a body treatment.
$185
Add Body Polishing

$45

Add Face & Scalp Massage

$85
Brown Sugar & Sea Salt Organic Scrub
This simple skin scrub is a nice combination of sugar and dead sea salts- all in one! Using Bulk Apothecary's pre-blended oil base provides the benefits of multiple oils resulting in a scrub that will gently exfoliate and polish your skin, while nourishing and moisturizing for a silky, smooth finish.
$175
Pumpkin Body Scrub
It smells amazing and smooths and pampers your rough spots with ease. (And it smells like pumpkin pie, what could be better!) This time of year can be so hectic, but a little self-care and love can go a long way to making you feel your absolute best!
$185
Chocolate Natural Body Scrub
This body scrub is natural blend of organic chocolate, cinnamon, sea salt, coffee grounds, pure olive oil and cold coconut oil. This blend targets dryness, cellulite, and signs of aging in the body. Feel and look like you're walking in brand new skin!
$175
Gerard's Chocolate Decadence
Tickle your senses and indulge your body in Gerard's euphoric Chocolate body massage. A symphony of the senses for both therapeutic and sensorial benefit. A special formulation of natural cocoa from Italy, and sweet almond oil will lift your spirits, de-stress and relax you. Heated to the perfect temperature, to cover you from head to toe.
$195
Add recommended Gentle Scrub

$85
Shea Butter Massage & Wrap Treatment
This massage will leave you feeling de-stressed, relaxed and relieved of any tension build-up. Your skin will also be left feeling smooth, soft and brightened as well as deeply moisturized and toned. Treats dry, flaking skin and pre and post tanning. Deep moisturizing and re-mineralizing.
$175
Add recommended Gentle Scrub (30 min)

$85
Lavender Luxury Scrub & Massage
This combination of skin Scrub & Massage will bring peace and serenity of relaxation with pure lavender essential oils. This treatment will restore your mind, body, and soul. Perfect for the overworked and under pampered. The massage included in this service is not a full body massage. It is incorporated throughout the treatment.
$235
Honey Dip Wrap
The rich yet gentle skin scrub will exfoliate and take out the impurities while the honey wrap nourishes the skin. Rich in Vitamin E, this incredibly sweet and intense treatment will renew and nourish the skin deep down, leaving it smooth, compact, and irresistibly silky to the touch.
$165
Add recommended Gentle Scrub

$85
Tibet's Energy Balancing Journey
This luxurious treatment contains Himalayan pebbles. Dead sea salt and warm fragrant oil are applied and gently massaged onto the entire body. The purifying power of the salt is combined with the magnetic warmth of the stones, performing a purifying, draining, and remineralization action.
$175
Add recommended Gentle Scrub

$85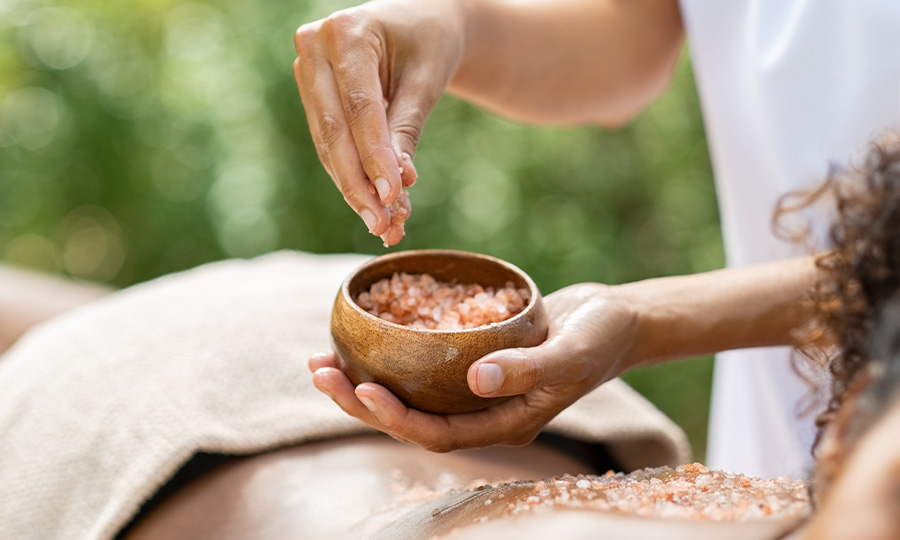 Body Scrub Benefits
Body scrubs have been around for centuries. The ancient Egyptians used body scrubs with perfumed oils to keep their skin healthy and supple from the extremely dry desert heat. This consistent body scrub routine had many benefits for them including:
Removes Dead Skin Cells
A Refreshed Look And Feel
Increased Skin Hydration
Increased Confidence In Your Skin
Can Help Clear Blemishes
Can Help To Reduce Stress
What Does A Body Scrub Do?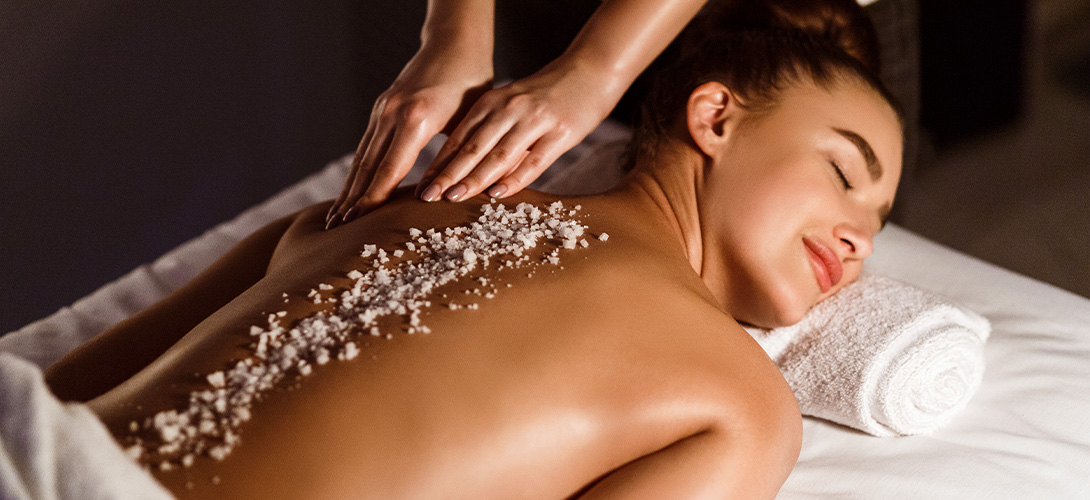 Over the years our bodies build up dead skin that we need to remove. Years of wear and tear from the sun, smog, and outdoor elements can leave our skin looking dry and aged. Our body scrubs help exfoliate the dead skin cells and encourage the production of healthy new cells. At our body scrub spa not only will you feel refreshed after the removal of dead skin cells, but our body scrubs also draw out impurities and leave your skin feeling smooth and polished afterwards. Your fresh, new skin will leave you with a healthy, youthful glow!
Our Customers Are Living The Sweet Life
At Dolce Vita Health & Beauty your experience is what matters most to us. Our 5000 square foot Tuscan oasis was designed to make you feel like royalty and to whisk you away from life's stresses. Each and every client is unique and special to us and is treated as such with free foot massages and refreshments. See why our clients are truly living the Sweet Life!

At Dolce Vita, we also offer a party room for groups that can be rented for as little as $75 an hour. A Group of 4 or more people requires a minimum of 1-hour booking. For more information, please contact us.