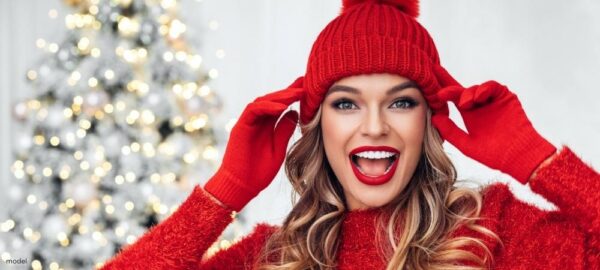 Jingle and Jeuveau Party
🌟 Prepare for the most glamorous holiday season ever! 🌟 We are thrilled to invite you to our exclusive Botox* Party, where you can achieve that holiday radiance. 
 Mark your calendar for December 7th, from 10 AM to 6 PM.
 Hurry and call 916-772-7733 to reserve your spot, as they're limited!
Don't miss this opportunity to shine during the holiday season! 
Learn More
The Sweet Life
Whisk yourself away to our Tuscan oasis and surround yourself with luxury at our medical and day spa in Sacramento. At Dolce Vita Health & Beauty we believe in treating your mind, body, and soul to help completely recharge you and turn you into the best version of yourself. Our medical spa and day spa treatments will help you achieve your desired aesthetic look and will have you absolutely radiating. Treat yourself to what you deserve. It can go a long way in making you feel good.
Medical Spa Treatments
In need of removing unwanted hair, plumping those lips, or evening out your skin tone? Our medical spa treatments cover a wide range of trouble spots and desired looks. Discuss your concerns with our registered nurse and we'll help you meet your aesthetic goals.

Injectables & Fillers
Rejuvenate your skin with injectables and fillers. Our licensed professional will help bring out the best in your appearance by restoring a youthful volume to your face. You'll walk out the treatment feeling more confident in your skin than ever before.

Day Spa Treatments
Come rest and relax at our day spa and be treated like royalty. Your skin will thank you for taking care of it with our spa packages, facials & peels, body scrubs, and more. Let our licensed professionals help your skin glow and ease away life's tensions.

Customer Reviews
Here at Dolce Vita Health & Beauty, treating our clients like royalty and ensuring they receive a world-class experience at our medical and day spa are our number one priority. With a fully-trained and knowledgable staff, each client has a unique journey they are on and we're proud and excited to be a part of it every step of the way.
I just did the relaxation massage with Alicia and it was amazing! Perfect medium pressure that made me so relaxed. If you're looking for an truly zen massage Alicia is your girl!

-- Amy W.
I had an amazing massage yesterday at Dolce Vita. Kate is an excellent massage therpist. She really tuned in to my areas of tension, her pressure was perfect and I felt so relaxed and balanced and the end of my 1.5 session.
Dolce Vita has a beautiful and relaxing ambience, the champagne after my massage was a nice touch. I've been here twice before and will definitely be back.

-- Ledina P.
Dolce Vita is the only place I go for spa treatments. Professional, relaxing and simply amazing. Staff is always helpful and kind. The massage therapists are the best.

-- Rachel S.
Olga was excellent! Gentle, knowledgeable and kind.
Thank you Olga.

-- Chris J.
I loved this place, the ambiance is perfect, it's really clean and you feel like its a spa not just an office. The customer service was good too! The massage was perfect definitely coming back for more!!

-- Yana Y.
The best experience!! You absolutely get what you pay for! We did a couples package and with the hydro massage bath, the 90 minutes full body massage, the foot detox, the champagne with truffles, and the customer service of every staff member we will be back to try multiple different packages! Thank you so much!

-- Jessa N.
I had the most delightful experience at Dolce Vida. I had my massage done by Natasha and she was fabulous! My massage was thorough and relaxing and I walked away feeling calm and so refreshed! Also I'd like to note that the spa was gorgeous and immaculately clean! I will definitely be coming back!!

-- Stephanie C.
Absolutely hands down amazing!! I was fortunate enough to get in as a same day appointment due to a cancellation! I had been way over due for some self care .

Upon arrival I was greeted with champagne and friendly staff and owner. My selection was minimal due to time restrictions but I scheduled a 60 min medium massage. The changing area was equipped with nice robes and non slip slides. I then was escorted to the Relaxation area where I sipped my champagne and had a Madeline cookie.

Natasha was my Therapist and she was amazing . I felt so relaxed. The only thing I would suggest would be to make the blanket optional as for me I loved the heated table but don't do well with restrain and the blanket at times was to much I also would have liked a tad bit more scented oil under my nose. Other then that this made for an amazing experience. So well that I got a membership. Now I can have services every month. They shall get use to my face around here. Worth the long drive from rancho Cordova

-- Davina G.
Book Now! I was more than satisfied with my experience as a first timer to this establishment.

I was greeted wonderfully by the manger Fay amongst entering the facility. She made me feel comfortable immediately and had a mimosa prepared for me while I changed into my robe.

Following her greeting was my aesthetician Cecilia Holding my mimosa amongst introduction. She spent an sufficient amount of time with me prior to starting facial to listen to my concerns/desires. I had the ultrasound facial treatment. She was Amazing! Already schedule my future visit back. I exited the facility the same way I entered. With Fay making sure I was satisfied with my total experience and providing additional information about other services of my interest.

While you can tell this establishment is a busy one. It was so beautiful to know/feel I wasn't rushed at any point of my experience. You'll love this place!

-- Latoya C.
BEST Massage Ever...all three of us agree after a well coordinated girlfriend spa day from 9:30-1p. Worth every penny and not left wanting more thanks to Natasha and all the friendly and safe staff. I get 1.5 hr massages a lot and at the end I wish I had more as though all my tense spots weren't quite taken care of.

I hadn't had a massage in a year and The "Russian/Mediterranean" technique that they use is new to me and it works...every inch of my body had no tension. Natasha had great flow at medium pressure w/ a head & face massage after 15 min in steam sauna and 15 min in a jet bath w/ champagne and sweet treats. Then my friend gifted me a paraffin wax that have my hands and feet smooth and silky 3 days later! It's a small boutique spa that has a small dressing room of 8-10 lockers one large shower, and one vanity make up station in the dressing room-a little tight if you're trying to get ready for a nice date w/ friends or hubby. Also it's a bit warm and the lighting is low so I put my make up on in the car. During Covid you can't use the shower so bring a hat if you're going out after. The entire staff was so friendly and attentive. I will definitely go back and hope they are just as lovely in a non Covid time.

-- Monica M.
Me and my wife came here for Valentines Day as my wife has been really wanting a massage since the pandemic started. We've been hesitant to get one and definitely didn't want to go to a $20 foot spa not knowing the cleanliness.

This place was recommended by my wife's hair stylist and after checking out the website we made reservations. This place was amazing starting with the pre-massage sauna with the champagne with sweets, best massage ever, and watching the water change colors as we detoxed! We were treated like King and Queen . If you want an amazing massage this is the place to go. It might cost a little more than you're average place but there's a reason for it! Treat yourself

-- Bryan W.
This is my second time here and again the staff was wonderful. They are well trained, professionals that was so refreshing. Sophie is amazing. Love
Love her. Highly recommend.

-- Lenore G.
I came here with my mom and 2 bridesmaids to enjoy a relaxing day at the spa. 2 of us got facial and 2 got massages. All of us received amazing services!. The staff and experience was incredible! The spa was clean and definitely gives you your money's worth. The staff was professional and provided services to your personal needs/wants. I felt beyond pampered. The robes and champagne was a huge plus. I can't say enough good things about it! Would definitely come back again!

-- Evelina R.
Only been here twice, and as a brand new client during these awful times, I received nothing but excellent customer service. Wish more places still treated people well, since after all we are coming here to get some stress-relief, so I'm thankful to have found a little ray of sunshine here for my stress-relief luxury. They are very clean, and the quality here is excellent. It's a pleasure to support businesses that remember to provide customer care and not merely treating people as just another transaction.

-- Shonna V.
This is absolutely the best spa I have ever been to. I have been to a lot of places before but none of them were as good as dolce Vita. The  staff are absolutely amazing and I feel like a VIP person. Everyone is very attentive to your needs.

The masseuse  was extremely careful with my body yet providing the best care. Courtney was extremely nice and professional. I'm so glad I have found them. The owner checked up on me personally. She wanted to make sure I receive the best at the spa, get the most out of the $$$ my husband paid as she promised him that I would leave very happy and she was right.

I'm never happy )))) but today they did it for me 100%.

PS: I've been to Hoshalls for their full day spa package. It was ok but there was no personal care for me. They were just doing their job, with no special care towards the client. Dolce Vita place has a soul

-- Elonna Y.
I had an excellent day and series of treatments here! I would highly recommend their services - I especially appreciated the professionalism and the educational aspect of the services as I liked knowing what I could expect during the treatment, what I might feel once I returned home, and how to bear care for myself in the days to come.

-- Irene J.
Came here for the acne facial and led light therapy about two weeks ago. My skin looks fantastic!

First off, the ambiance inside is very nice and calming! This spa is tucked away in Granite Bay.

I suffer from severe winter/dehydrated skin and the occasional adult acne. I have been looking for a spa that does a good acne facial.

My esthetician took the time to listen to my skin concerns as well as my current skin regimen. The acne facial was really nice and the led light therapy was about 30 minutes. With the led light therapy you get a hand massage as well.

My skin was so much better after this treatment!

-- Liesl K.
Highly Trained and Certified Masseuses and Nurses
To create a world-class experience requires world-class staff. At Dolce Vita Health & Beauty, all of our staff that treat clients are trained and certified in their area of expertise to ensure that you receive top-notch treatment and is done in a safe manner.
Each licensed professional at Dolce Vita continuously updates their training and knowledge regimen to stay on top of the latest techniques and procedures. As a result, every client that walks through our doors receives a wonderful experience.
Dolce Vita Health & Beauty Spa is proudly led and operated by Board Certified Physician, Ilana Katsnelson, M.D.
Free Refreshments Upon Your Arrival